Transradial access has become the standard vascular approach for percutaneous coronary procedures1. Several devices and techniques, such as slender sheaths, sheathless guiding catheters, and distal radial access, have emerged as less invasive approaches to minimise vascular complications and contrast volume. The minimisation of the size of guiding catheters, however, sometimes makes the use of intravascular imaging modalities more challenging and limited.
We report a case of a 44-year-old man with chronic coronary syndrome who underwent elective percutaneous coronary intervention (PCI) with optical coherence tomography (OCT) guidance via the distal radial access in the anatomical snuffbox using a 4 Fr system (including a 4 Fr standard sheath [Radifocus Introducer II; Terumo] and a 4 Fr guiding catheter [Judkins left 3.5, KIWAMI, Heartrail II; Terumo]). The pre-intervention coronary angiogram revealed a 90% stenosis in the proximal segment of the right coronary artery with a fractional flow reserve of 0.56. The OCT examination was performed using a high-frequency OCT (HF-OCT) system (Gentuity; Nipro). A 1.8 Fr rapid exchange OCT catheter (Gentuity Vis-Rx Micro-Imaging Catheter; Nipro) was advanced distal to the culprit lesion over a 0.014 inch guidewire (Hi-Torque Balance Middleweight Elite II; Abbott), and automatic pullback at 50 mm/s (250 frames/s) was initiated in concordance with blood clearance using a short injection of contrast media at a flow rate of 3.0–4.5 ml/s via the guiding catheter using an automated power injector (ACIST CVi; ACIST) during the procedure to optimise stenting. The patient was successfully treated with the implantation of a 3.0×32 mm ultrathin-strut polymer-free sirolimus-eluting stent (Coroflex ISAR NEO; B. Braun).
To the best of our knowledge, this is the first case report demonstrating the feasibility of 4 Fr PCI with OCT guidance using a novel US Food and Drug Administration-cleared HF-OCT system. OCT guidance for PCI has been reported to be useful for stent optimisation2. Introduction of this novel 1.8 Fr OCT catheter may help achieve minimally invasive PCI with intracoronary imaging guidance.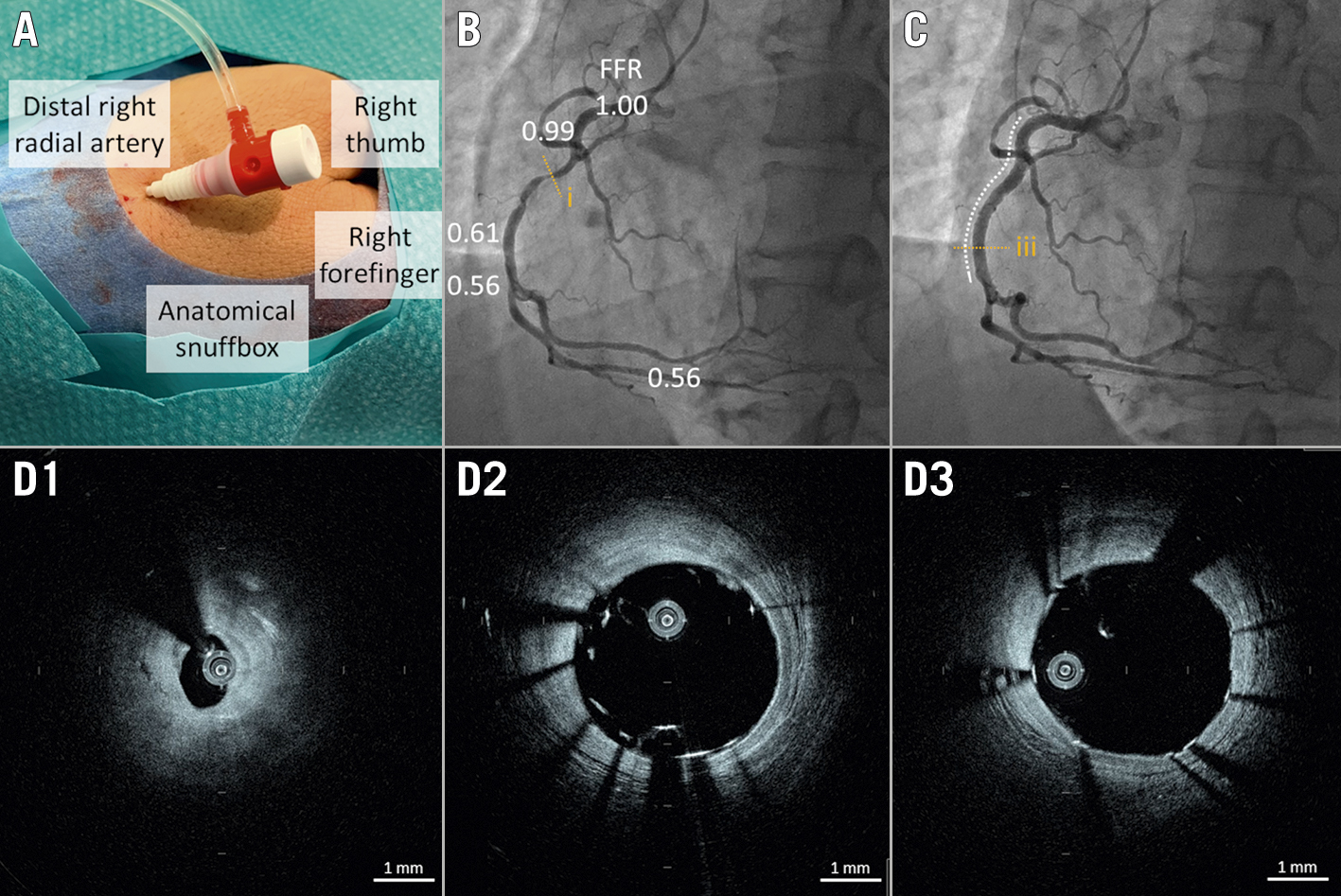 Figure 1. Optical coherence tomography-guided percutaneous coronary intervention using a 4 Fr system. A) Distal right radial artery access in the anatomical snuffbox using a 4 Fr standard sheath. B) Pre-intervention coronary angiogram using a 4 Fr guiding catheter revealed a 90% stenosis in the proximal segment of the right coronary artery with a fractional flow reserve (FFR) of 0.56. C) Post-intervention coronary angiogram. White dotted line indicates a stent. D) Optical coherence tomography images. (D1) Pre-intervention image indicated a fibrous plaque. (D2) Post-stent image showed incomplete stent apposition. (D3) Post-optimisation image demonstrating improvement of stent apposition.
Conflict of interest statement
The authors have no conflicts of interest to declare.