About the journal
AsiaIntervention is the official journal of the Asian-Pacific Society of Interventional Cardiology (
APSIC
) and the Interventional Cardiology Foundation of India (ICFI).
It is an international, English language, peer-reviewed journal whose aim is to create a forum of high quality research and education in the field of percutaneous and surgical cardiovascular interventions.
It is released twice a year, in paper and electronic formats.
AsiaIntervention has applied for indexation in Science Citation Index® (ISI), SciVerse Scopus, MEDLINE®/PubMed®.
Volume 8, Number 2, October 2022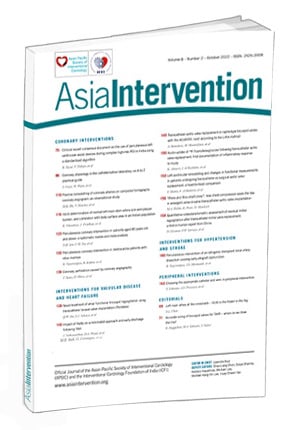 An expert clinical consensus on the use of LV assist devices in the management of high risk PCIs in patients with poor LV function; a review of coronary physiology in the cath lab; the role of positive remodelling on CT coronary angiograms as an adverse factor increasing the likelihood of adverse vascular events in CAD; an IVUS-based study measuring the mean reference diameter and luminal diameter; a meta-analysis of PCI in patients more than 80 years of age; technical tips and tricks performing urgent PCI in ACS patients with dextrocardia and situs inversus. In interventions for valvular heart disease: TricValve in the treatment of severe tricuspid regurgitation; a frailty index to indicate which patient can benefit from a minimalist approach with early discharge after TAVI; the LIRA technique to treat a raphe type bicuspid aortic valve with the ACCURATE neo2; diagnosing inflation using PET; comparing LV remodelling and improved aortic in SAVR and TAVR. In peripheral interventions, an expert review on the "how and why" of hardware selection.