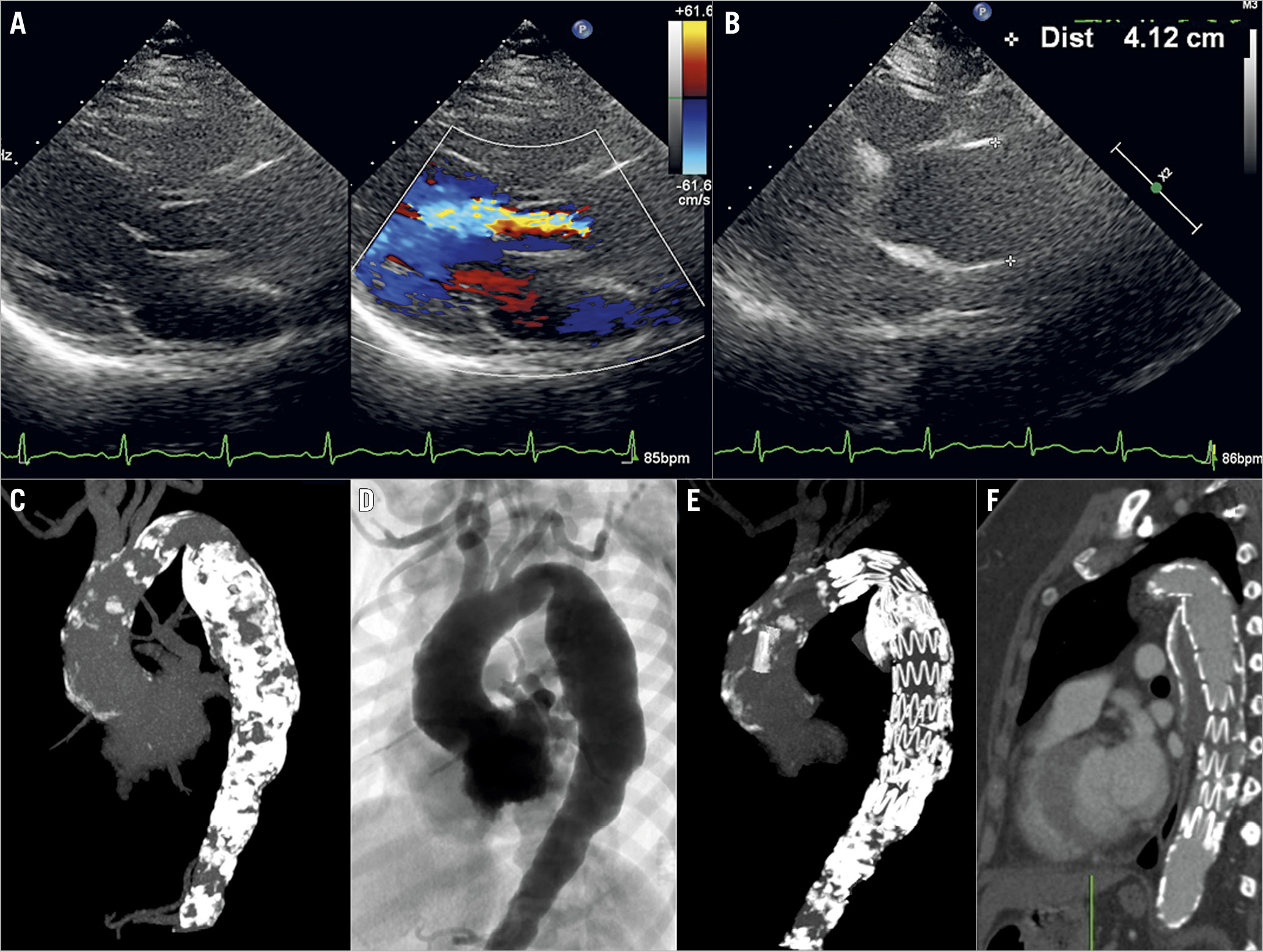 A 55-year-old diabetic, hypertensive female presented with dyspnoea on exertion (New York Heart Association [NYHA] Class II) for the last year. Clinical examination revealed a short, early diastolic murmur of aortic regurgitation (AR). Echocardiography revealed a normal, non-calcified tricuspid aortic valve having moderate AR, secondary to the dilated ascending aorta of size 41.2 mm (Panel A, Panel B). Computed tomography (CT) angiography revealed a severe, circumferentially calcified thoracoabdominal aorta, i.e., porcelain aorta (Panel C), with a fusiform thoracic aneurysm (Panel D). The aneurysm measured 48.5 mm in diameter, 154 mm in length, arising 20 mm distal to the left subclavian artery. The ascending aorta was also dilated with a maximum diameter of 42.7 mm. The arch of the aorta and its branches were normal. Serum tests for autoimmune disease and inflammatory large cell arteritis were negative. Her serum creatinine was 0.72 mg/dL. The likely aetiology of porcelain aorta was diabetes-related atherosclerosis. After discussion in the Heart Team forum of our institute, percutaneous thoracic endovascular aortic repair (TEVAR) was planned. A 30×200 mm thoracic stent graft (Zenith TX2® TAA Endovascular Graft; Cook Medical, Bloomington, IN, USA) was deployed distal to the origin of the left subclavian artery through the surgically exposed right femoral artery. There was no type 1 endoleak following the stent deployment. Her coronary angiography was normal without any significant narrowing. Post procedure, the femoral access site was repaired using a 5-0 polypropylene suture. She was discharged on aspirin, statins, oral hypoglycaemic agents and angiotensin receptor blockers for comorbid illness. Repeat CT angiography at three-month follow-up showed a well-apposed stent graft, and complete exclusion of the thoracic aneurysm without any endoleak (Panel E, Panel F). She was asymptomatic during the two years of follow-up, without any further progression of AR or dilatation of the ascending aorta as assessed by echocardiography.
Conflict of interest statement
The authors have no conflicts of interest to declare.