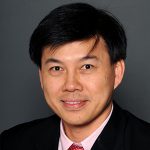 Interventional cardiologist / Cardiologist
National University Heart Centre – Singapore
Personal website
I graduated from the National University of Singapore in 1987 and obtained my Master of Medicine in Internal Medicine and Membership of Royal College of Physician (United Kingdom) in 1992, Fellowship of American College of Cardiology in 2001, Fellowship of Society of Coronary Angiography and Intervention in 2002 and Fellowship of Royal College of Physician in 2004.
I did my Interventional Cardiology fellowship at Duke University Medical Centre, North Carolina, USA in 1995, followed by training in Vascular Ultrasonography at St Vincent's Hospital, Sydney, Australia, and carotid stenting at Taiwan National University Hospital.
I am presently the Director, National University Heart Centre, Singapore (NUHCS); Senior Consultant Cardiologist at the National University Hospital, and Professor of Medicine with Yong Loo Lin School of Medicine, National University of Singapore. I was the past President of Singapore Cardiac Society
and presently a Board member of the Singapore Heart Foundation. I am awarded the Nation al Day Award for Public Service Administration in 2016.
I am the current President of the Asia Pacific Society of Interventional Cardiology (APSIC) and founding member of the Asia Interventional Cardiovascular Therapeutics (AICT).
I am regularly invited as a lecturer and faculty in many international cardiology meetings, and am a Visiting Professor to 9 hospitals in China and University of Mandalay, Myanmar. I am also an active clinical researcher.