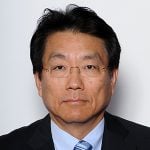 Interventional cardiologist / Cardiologist
Division of Cardiology, Department of Internal Medicine, Asan Medical Center, University of Ulsan College of Medicine, Asan Medical Center – Seoul, Korea
Personal website
Park Seung-jung is a South Korean cardiologist. Currently he is chairman of the Heart Institute at Asan Medical Center in Seoul and professor of medicine at University of Ulsan. Park is currently serving as a Chairman of Board of Trustees at CardioVascular Research Foundation, and as a course director, he has been organizing the annual conference, CardioVascular Summit-TCT Asia Pacific, since 1996.
1996 – Advisory Board Asian-Pacific Society of Interventional Cardiology
1996 – Associate Professor of Medicine Chief, Division of Interventional Cardiology Cardiovascular Center, Asan Medical Center University of Ulsan, College of Medicine, Seoul, Korea
1998 – Editorial Board Interventional Cardiology Bulletin
2000 – Professor of Medicine Chief, Division of Interventional Cardiology Cardiovascular Center, Asan Medical Center University of Ulsan College of Medicine, Seoul, Korea
2002 – Chairman Cardio Vascular Research Foundation
2004 – Editorial Board Current Cardiology Reviews
2004 – Editorial Advisory Future Cardiology
2004.3 – 2008.2 Chairman The Korean Society of Interventional Cardiology
2004.12 – Director Clinical Research Center for Ischemic Heart Disease
2006 – 2008 President Asian Pacific Society of Interventional Cardiology
2006.09 – Director Asan Heart Institute
2006 – 2010 Editorial Board Catheterization and Cardiovascular Interventions
2008.02 – Associate Editor for the Pacific Rim Euro Intervention
2008.02 – Editorial Board Journal of American College of Cardiology: Cardiovasular Interventions
2008.07 – 2010 International Advisory Board Circulation Journal-The Japanese Circulation Society
2008 – 2010 Editorial Board The American Journal of Cardiology
2009 – 2011 International Associate Editor European Heart Journal
2009 – 2011 Associate Editor Interventional Cardiology
2009 – 2010 Director, International Affairs Committee The Korean Society of Cardiology
2009.7 – International Associate Editor Circulation Journal – The Japanese Circulation Society
2009.11.23 – Chairman Heart Institute, Asan Medical Center
2015 Chief Editor AsiaIntervention
Grants and awards
1991 – 1993 NSF grant DMS-9106444
1997 – 2001 NSF grant DMS-9701489 :'Effective Diophantine Geometry over FunctionFields'.
1998 – 2002 NSF Group Infrastructure Grant : 'Southwestern Center for Arithmetic Geometry', Co-PI with six other researchers from the University of Arizona, UTexas Austin, USC, and the University of New Mexico.
2003 – 2006 NSF Infrastructure grant : 'Southwestern Center for Arithmetic Geometry', Co-PI with nine other researchers from the University of Arizona, UTexas Austin, USC, UC Berkeley, and the University of New Mexico.
2005 – 2008 NSF grant DMS-0500504 : 'Motivic fundamental groups, multiple polylogarithms, and Diophantine geometry'.
2006 – 2008 Japan Society for the Promotion of Science, Core-to-Core program 'New Developments of Arithmetic Geometry, Motive, Galois Theory, and Their Practical Applications,' Foreign member
2008 EPSRC grant, 46437, for workshop 'Non-commutative constructions in arithmetic and geometry'
2009 EPSRC grant, EP/G024979/1, 3-year project on 'Non-commutative fundamental groups in Diophantine geometry', March
2009 EPSRC grant, EP/G024979/1, 3-year project on 'Non-commutative fundamental groups in Diophantine geometry', March
Seung-Jung Park
Interventional cardiologist / Cardiologist
Division of Cardiology, Department of Internal Medicine, Asan Medical Center, University of Ulsan College of Medicine, Asan Medical Center – Seoul, Korea