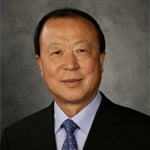 Interventional cardiologist / Cardiologist
National Center for Cardiovascular Diseases, Fu Wai Hospital – Beijing, China
Personal website
Runlin Gao M.D., was born in May 1941 in Hebei, China, graduated from Beijing Medical University in 1965, and got his Master Degree from Peking Union Medical College in 1981. He completed cardiology fellowship training at Loma-Linda University School of Medicine, CA, USA, from 1985 to 1986.  From 1982 till now, he has been working at Division of Coronary Heart Disease, Department of Cardiology, Fu Wai Hospital, Chinese Academy of Medical Sciences, Peking Union Medical College. In 1991, he was promoted to Professor of Medicine. In 1996 he accepted the position of Director of Department of Cardiology and President of Fu Wai Hospital. He remained in that position until 2002. Currently, he works as a Chief Cardiologist at Department of Cardiology and Chairman of National Expert Consultative Committee for cardiovascular diseases, National Center for Cardiovascular Disease of China. His field of specialization is cardiovascular interventions, particular in coronary intervention. He made contribution to the development of interventional cardiology in China as one of the pioneers.
Dr. Gao is Past President of the Chinese Society of Cardiology, and Past Vice President of the Chinese Medical Doctor Association. He holds memberships in numerous professional organizations, including the American College of Cardiology (FACC), the European Society of Cardiology (FESC) and the Society for Cardiovascular Angiography and Interventions (FSCAI). He was elected to be a Member of the Chinese Academy of Engineering in 1999.
Dr. Gao served as the Editor-in-Chief of the Chinese Journal of Cardiology from 1999 to 2008, and the Editor-in-Chief of the National Medical Journal of China from 2008 till now. He has served as an Editorial Member of various other editorial boards.
He has authored or co-authored over 500 articles for medical journals. Dr. Gao was awarded the Ethica Award of EuroPCR 2011 and the Career Achievements Award of TCT 2016.