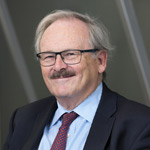 Interventional cardiologist / Cardiologist
Imperial College – Rotterdam, Netherlands
Personal website
In 2005 he held the 4th International Lecture at the AHA and Mikamo Lecture at the Japanese heart Association.
In 2006 he received the highest award of the Clinical Council of the American Heart Association: the James Herrick Award. In 2007 he received the Arrigo Recordati International Prize (Italy) and the ICI Achievement Award (bestowed by the President of Israel – Shimon Perez). In 2008 he received the Einthoven Penning (Leiden). In 2009 he became Doctor Honoris Causa from the University of Athens.
In 2011 he received the Lifetime Achievement Award, bestowed by the American College of Cardiology, in recognition of many years of service and invaluable contributions to the ACC. At the end of 2011 Dr Serruys received the Ray C. Fish Award, bestowed by the Texas Heart Institute, for outstanding achievement and contribution to cardiovascular medicine.
1965 – 1968: Pre clinical medical studies, summa cum laude – University of Leuven, Belgium
1968 – 1972: Clinical studies, summa cum laude – University of Leuven, Belgium
1972: Internal medicine examination, Second of 29 candidates – University of Leuven, Belgium
1972: Medical degree, summa cum laude, Dux of class of 313 candidates
1972 – 1973: Internship. Rotations in internal and pulmonary medicine – University of Leuven, Belgium
1973: Rotation in hematology – University of Leuven, Belgium
1973 – 1975: Rotation in the intensive care and coronary care units. Prof. Tremouroux – University of Leuven, Belgium
1975: Cardiac surgery and post operative care. Prof. Chalant – University of Leuven, Belgium
1975 – 1976: Department of Cardiology. Prof. Basseur – University of Leuven, Belgium
1976: Department of Cardiology. Prof. Kremer – University of Leuven, Belgium
1976 – 1985: Department of Cardiology. Prof. Hugenholtz – Erasmus University, Rotterdam, The Netherlands. Certification as Cardiologist in Belgium and The Netherlands
1977: Senior Member of Cardiology Staff of the Thoraxcenter, Prof. Hugenholtz – Erasmus University, Rotterdam, The Netherlands
1977 – 1980: Co director of the Catheterization Laboratory, Thoraxcenter – Erasmus University, Rotterdam, The Netherlands
1980: Present Director of the Clinical Research Program of the Catheterization Laboratory and the Clinical Imaging Laboratory for angiography
1983: Correspondent of the French Society of Cardiology
1984: Chairman of the Working Group on Coronary Blood Flow and Angina Pectoris (European Society of Cardiology)
1986: Appointed to \"Chef de Clinique\", and defended cum laude his PhD thesis on: Transluminal coronary angioplasty: an investigational tool and a non operative treatment of acute myocardial ischemia
1988: Nomination as professor of interventional cardiology ("hoogleraar in interventie cardiologie") in the Interuniversity Cardiological Institute of the Netherlands (ICIN)
1997: Head of the Interventional Dept. Heartcenter Rotterdam, The Netherlands