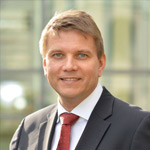 Cardiologist and Intensive Care Specialist
Stadtspital Zuerich – Zürich, Switzerland
Personal website
Dr. Christoph Naber is an active member of the PCR family. He is the course-co-director of EuroPCR and PCR London Valves, and course-director of AsiaPCR. He has served as a member of the executive board of the European Association of Percutaneous Cardiovascular Interventions (EAPCI) of the European Society of Cardiology (ESC), and is a member of the editorial boards of EuroIntervention and AsiaIntervention. He is a past-chairman of the German Working Group of Interventional Cardiology (AGIK/DGK). Dr. Christoph Naber is currently the Chairman of the Stent – Save a Life! Initiative.
Since 2017: Director, Department of Cardiology, St.-Marien-Hospital, Mülheim a.d. Ruhr, Germany
Since 2012: Director, Department of Cardiology and Angiology, Elisabeth Krankenhaus Essen, Germany
2012 – 2015: Managing Director, Contilia Heart and Vascular Center, Elisabeth Krankenhaus Essen, Germany
2009 – 2012: Director of Interventional Cardiology, Contilia Heart and Vascular Center, Elisabeth Krankenhaus Essen, Germany
2008: Interventional Fellowship, Cardiology Cathlab, Clinique Pasteur, Toulouse, France
2007-2008: Head of Peripheral Cathlab, Department of Angiology, University Hospital Essen , Germany
2005-2007: Assistant Director, Department of Cardiology, West-German Heart Center, University Hospital Essen, Germany
1999 – 2005: Fellow, Department of Cardiology, West-German Heart Center, University Hospital Essen, Germany
1997 – 1999: Post-Doctoral Fellow, Institute for Pharmacogenetics, University Hospital Essen, Germany
1997: First year resident, Department of Cardiology, University Hospital Essen, Germany
1996: First year resident, Department for Cardiology, Angiology und Pneumology, Heinrich-Heine-University, Duesseldorf, Germany
1988 – 1995: Medical school, Ruhr-University, Bochum, Germany
Selected Memberships and Working Groups

Past-Chair of the Working Group on Interventional Cardiology, German Society for Cardiology (DGK)
Chairman of the Global Stent-Save-a-Life Initiative (www.stentsavealife.com)
Member of the Executive Board, European Association of Percutaneous Cardiovascular Interventions (EAPCI)
Member of the Board of Directors, EuroPCR
Member of the Board of Directors, AsiaPCR/SingLive
Member of the Board of Directors, PCR-CIT China Chengdu Valves
Member of the Board of Directors, PCR Tokyo Valves
Member of the Board of Directors, PCR London Valves
Member of the Editorial Board of EuroIntervention, the official Journal of the European Association of Percutaneous Cardiovascular Interventions (EAPCI)
Fellow of the European Society of Cardiology (ESC)
Fellow of the American Heart Association (AHA)
Fellow of the Asian Pacific Society of Interventional Cardiology (APSIC)
Honorarium: Abbott Vascular
Honorarium: Biosensors International
Honorarium: Daiichi Sankyo Europe GmbH and Eli Lilly & Co
Honorarium: Edwards Lifesciences
Honorarium: Eurocor
Honorarium: Stentys
Consultant: Abbott Vascular
Consultant: Biotronik
Consultant: Medtronic
Consultant: The Medicines Company
Other: Biotronik
Other: Stentys